I am a Senior Lecturer with AIFMRM, the African Institute of Financial Markets and Risk Management at the University of Cape Town. I am also a Policy Associate at Economics Research Southern Africa, and a Research Economist at Deutsche Bundesbank. Please note that this is my private website and the views presented here do not necessarily reflect the views of Bundesbank or the ESCB.

Most of the code I am developing is on github.
News
February 2017 AIFMRM is hiring a Postdoc to join our team. Ideally, we are looking for someone with an interest in financial networks and agent-based modelling, but all areas of finance, economics, computer science, or closely related fields are invited to apply by 31 March 2017. You can find more details here.
February 2017 We have just released Black Rhino 1.0, a flexible financial multi-agent simulation framework. Our github repository contains the latest version, a bunch of examples to show how it works and an extensive documentation.
February 2017 Together with a group of Masters and PhD students we created the first systemic risk ranking for South African Financial Institutions. Details can be found on our website.
Research
Publications
January 2015. "Contagious Synchronization and Endogenous Network Formation in Financial Networks" (with Christoph Aymanns, LSE), Journal of Banking and Finance 50(1) (2015). [abstract] [paper] [code available upon request]

Banks act based on a private and a social signal in a simple extension of Bayesian learning. The social signal is stronger if banks observe a larger group of peers which leads to correlated investment strategies of highly interconnected banks.

February 2013. "The Effect of the Interbank Network Structure on Contagion and Common Shocks", Journal of Banking and Finance 37(7) (2013). [abstract] [paper] [code]

A dynamic multi-agent model of the financial system. The interbank network structure does not always affect financial stability and central bank liquidity provision can stabilize the interbank market in the short-run only.
Working Papers:
Work in progress:
"Optimal Financial Contagion" (with Toni Ahnert, Bank of Canada, and Gideon du Rand, Stellenbosch).
"Measuring Regulatory Complexity" (with Jean-Edouard Colliard, HEC Paris).
Interdisciplinary, Policy, and Other Publications
Software and Web Projects:

Black Rhino 1.0 Released! We are developing Black Rhino, an open source financial network multi-agent model framework. You can find the latest release (including a short tutorial) in our github repository.

Together with Tarik Roukny I am developing NetGen, a powerful open source software suite to clean and analyze supervisory data on financial networks. You can find the latest version here.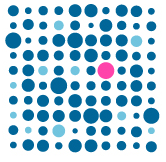 Michael Rose and I have developed a website to accompany our paper on informal collaboration in financial economics. Here you will find a ranking of financial economists based on their centrality in the network of informal collaboration. To our website.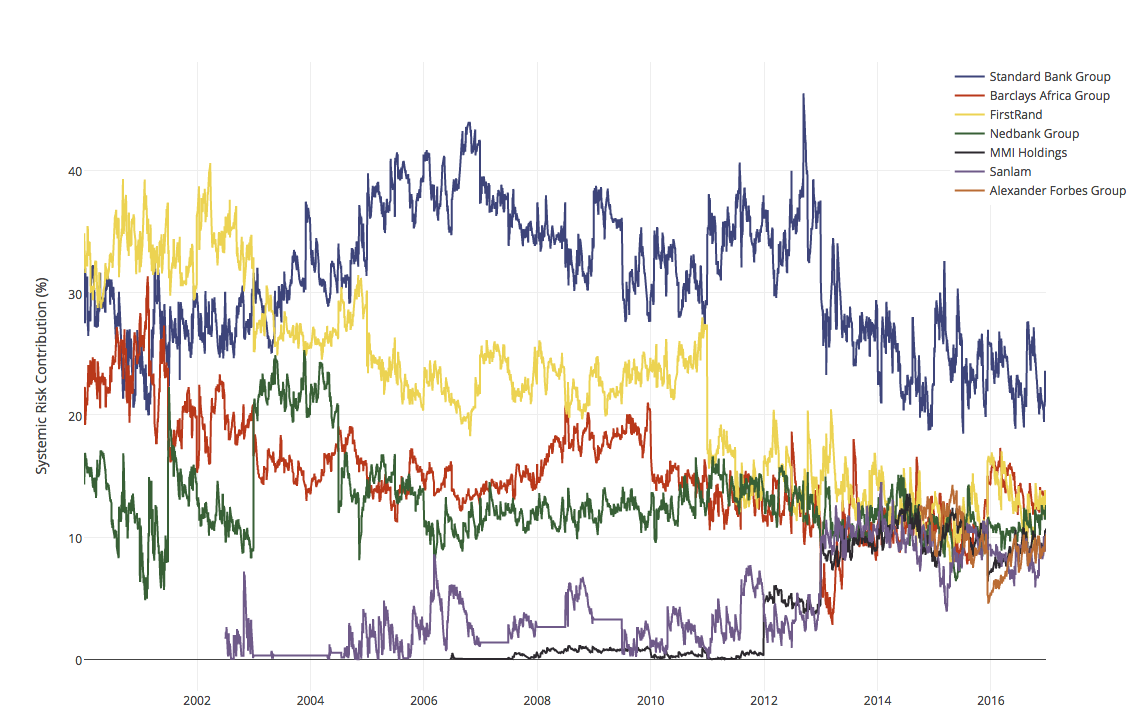 Together with a group of MCom and PhD students we have developed the first comprehensive systemic risk ranking for South African financial institutions. You can find details on our website.
Team
I am fortunate to work with a group of outstanding students and postdoctoral researchers. If your contacts are missing or outdated, it is time to get in touch again!
University of Cape Town
Postdoctoral Researchers (#: First placement)
Daniel Opolot (PhD Maastricht, 09/2016-)
Suraj Shekhar (PhD Penn State, 08/2016-)
Christine Makanza (PhD UCT, 06/2016-)
Pawel Fiedor (PhD Krakow, 06/2015-06/2016, #: Trainee ECB)
Hylton Hollander (PhD Stellenbosch, 06/2015-01/2016, #: Lecturer Stellenbosch)


PhD Students
Nolwazi Hlophe (MCom Pretoria), 02/2017-, External PhD Student (Bank of Swaziland))
Chernay Johnson (MSc Wits), 02/2017-, co-advisor)
Qobolwakhe Dube (MCom UCT, 02/2017-, co-advisor)
Allan Davids (MSc Stellenbosch, 09/2016-)
Esti Kemp (MCom Pretoria, 04/2016-, External PhD Student (SARB))
Tina Koziol (MCom Jena, 04/2016-)
Michael Rose (MSc Kiel, 04/2015-)
Gideon du Rand (MSc Stellenbosch, 04/2015-, co-advisor, PhD Student at Stellenbosch)
Bundesbank
Sabine Bertram (2016, intern, Master Student HU Berlin)
Ali Josue Limon (2016, intern, Master Student NYU)
Dieter Wang (2015, intern, Master Student Tinbergen Institute, Amsterdam)
Andrea Deghi (2015, intern, PhD Student Siena)
Dr. Raphael Flore (2014, intern, PhD Student Cologne)
Christoph Aymanns (2013, intern, PhD Student Oxford)
Niccolo Stamboglis (2013, intern, PhD Student City University London)
Florian Urbschat (2013, intern, Master Student at University of Hamburg)
Tarik Roukny (2013, intern, PhD Student ULB)
Teaching
Useful advise:
Lasse Heje Pedersen has a most useful tutorial on
"How to succeed in academia"
which I urge all students to read. Before starting to write your thesis or dissertation, read John Cochrane's
writing tips for PhD Students
(also useful for MBA Students). Those interested in applied microeconomics should also check out Jesse Shapiro's
Unauthoritive Notes
and Matthew Gentzkow's
Code and Data for the Social Sciences: A Practitioner's Guide
(with Jesse Shapiro). Details of how to give an academic talk can be found on Jonathan Shewchuk's
website
.
Contact
E-mail:
cogeorg@gmail.com | co-pierre.georg@uct.ac.za | co-pierre.georg@bundesbank.de
Telephone:
+27 21 406 1025 | Skype: co.georg | Twitter: @co_georg
Postal Address:
University of Cape Town, AIFMRM, Private Bag X1, Cape Town 8000, South Africa